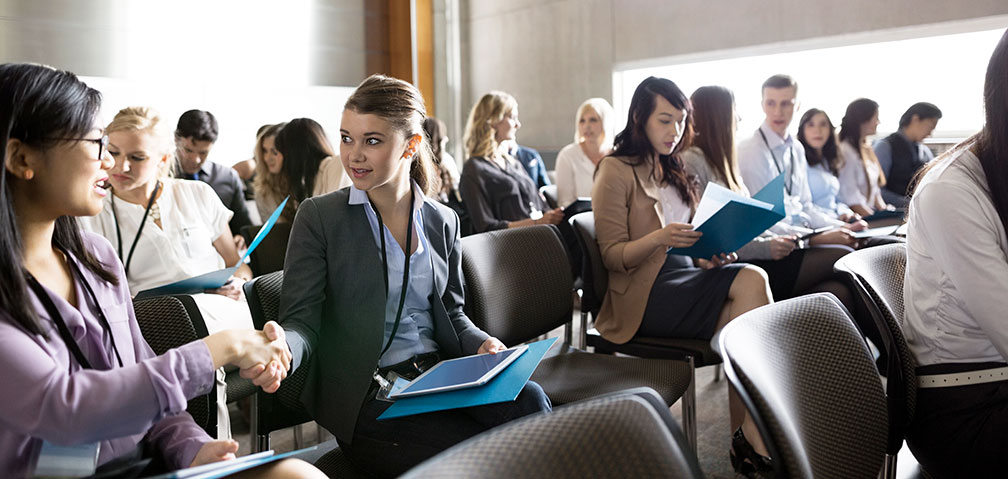 "Bank Your Career with Us" Internship Program
As a college student, it's no question that internships are an investment in your future. And if your future is in banking, an internship with JMB can provide a solid foundation towards your career path. Our paid — yes, paid — bank internship program does more than just fulfill your graduation requirement hours. We offer internship positions as a credit analyst and more!
"Bank Your Career With Us" is an internship program that allows you to experience a life in banking and discover the many facets that it has to offer. You'll have an opportunity to network with some of the most established bankers in the DC Metro area and build relationships with like-minded peers. Through our guided internship, you'll be exposed to the skills and insight needed to prepare for and build a successful career in banking.
Bank Internship Testimonials
"I had the honor of working as a credit analyst intern at John Marshall Bank's headquarters in Reston, VA. I was given the opportunity to underwrite commercial loans and have an inside look regarding the approval process. It was such a rewarding experience and I couldn't have asked for more. Aside from learning an incredible amount I was given the absolute best team to work with. Not only did I grow professionally but I also found some great friendships along the way."
Kiana Lopez, Credit Analyst Intern
"What truly sets this program apart is being able to apply my learned skills to tasks that need to be completed for the Bank's success. My work is valued here, which gives me a sense of importance and purpose within the daily work life. I was given the autonomy to choose what I could do with my work day with suggestions from my department about the next steps to becoming an effective analyst. I am grateful to be a part of JMB, to have these experiences and to have contributed to the credit analyst internship program."
Michalya Bacon, Credit Analyst Intern
What to Expect at Your JMB Bank Internship
Paid Internships
We value the work that you are contributing to John Marshall Bank. Our paid internships are a reflection of our investment in both your experience with JMB and your future career in banking.
Positive Workplace
Our company culture is driven by excellence and built by collaboration. While we operate as one of the leading community business banks in the region, we make time to celebrate each other — birthdays, holidays and everything in-between!
Training and Mentorship Opportunities
Gain access to our experienced bankers with decades' worth of industry knowledge and insights. Plus, we provide targeted mentorship opportunities within your desired area of focus from loan administration to financing and more.
Career Pathway
At JMB, we're always looking to build towards our future. For the right fit, an internship with us today could mean an entry-level position in our headquarters or branches upon graduation.