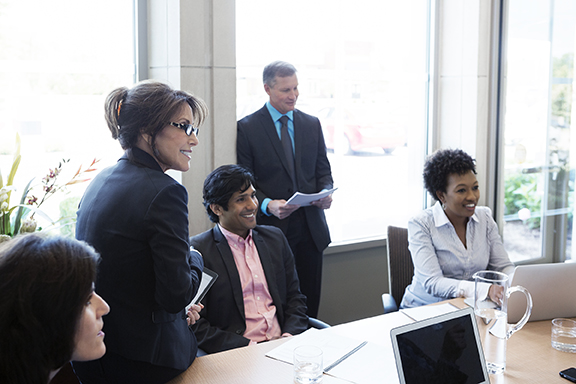 Who We Are
We're a community bank headquartered in Reston, Virginia that's been serving local businesses in Northern Virginia, Maryland, and DC for over fifteen years. As a community bank, we value relationships and the traditional handshake or elbow bump while continuing to position ourselves at the forefront of innovation. Our bank jobs are a reflection of this commitment.
While our core values of Honesty, Excellence, Responsiveness, and Ownership are fundamental to who we are, we're excited about the dynamic transformation taking place in our organization. If you enjoy leading change, providing financial solutions, and engaging in new opportunities, then the perfect position might be waiting for you at John Marshall Bank.
You're a great fit if you are:
Driven.  – You are intrinsically motivated to complete projects and tackle new challenges.
Collaborative. – You enjoy partnering with others to achieve a common goal.
Responsive. – You go the extra mile to make sure the job gets done.
We aren't just looking for someone with 30+ years of experience in the banking industry (although that is a huge plus). Our team is comprised of individuals from a variety of backgrounds and experience. On the other hand, we welcome all bankers looking for a stimulating and cooperative environment where your advanced skill sets can make an impact in one of our many bank jobs.
The JMB Experience
At John Marshall Bank, we see every day as an opportunity to grow in your career. Whether you're just starting out or you're a seasoned banking veteran, we are intentional about supporting our team at all levels. Frankly, we believe a great organization is comprised of great people. That's why we invest in enriching your overall experience and achieving a healthy work-life balance. This effort has several different elements including competitive benefits, paid-time-off, employee appreciation events, and special celebrations.
If this sounds like the perfect fit for you, we encourage you to look through our current career opportunities and apply today.
John Marshall Bank is an Equal Opportunity Employer.
View Our Current Open Positions