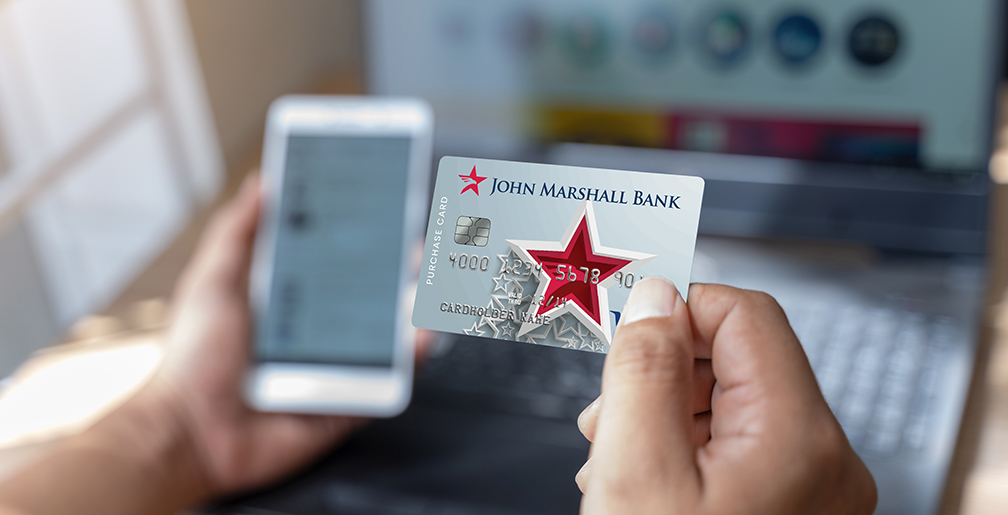 The growth of your company shouldn't
be limited by your expenses
John Marshall Bank's suite of business credit cards and purchasing card will allow you to build your business and discover your growth potential without having to worry about funding or financing it. We are able to offer competitive cash back rates and exciting rewards on many credit card options. If your company is already gaining traction, you may qualify for our exclusive purchasing card (p-card).
Purchase office supplies, furnish your office, or even lease a brand new office space – the choice is yours.
Small to Mid-Size Businesses
Every business owner needs the convenience and purchasing power of a credit card. John Marshall Bank offers a variety of options, ranging from the traditional options that cover your basic needs to a functional card that integrates with your accounting system. Choose the card that works best for you and talk with one of our knowledgeable bankers for more information.
Purchasing Power & Rewarding Rebates
John Marshall Bank now offers a Purchase Card Program that allows you to improve efficiency, reduce cost, and provides extensive support for key business functions. Plus, our rewarding program comes with significant rebates on purchases, allowing you to make the most of your P-Card!
Features of the VISA® Purchasing Card
Quick Approval
With 24/7 access to the Expense Management Software, account holders are able to quickly approve, track, and monitor a number of transactions, as well as:
View and allocate all of your monthly expenses before it routes to a supervisor for approval
Define account code segments including cost centers, departments or other account ledger indicators to automatically assign to transactions
Increase or decrease individual spend limits, view approvals and declines, print statements, update profiles, make payments in real-time, reconcile charges and upload receipts
Control Spending:
Reduce risk and keep program costs in check through our software's account management features which include extensive spend analysis tools, data management to review all cardholders' usage and the ability to restrict transactions by pre-setting velocities.
Enhanced Reporting:
Effectively manage your payables, have greater visibility into your company's expenses and procurement while eliminating the need for manual data entry through the VISA Purchasing Card's enhanced reporting tools. Now you can allow for out-of-pocket mileage and expense reimbursements, create reports at various levels and upload data files directly to your payable software.
Cash Back Tiers
| | |
| --- | --- |
| $0.00 – $499,999 annual purchases | 0.25% |
| $500,000 – $4,999,999 annual purchases | 0.75% |
| $5,000,000+ annual purchases | 1.00% |
Start-Up Costs: One Time Implementation Fee = $250.00; Annual Card Fee Per Card = $25.00; Late Fee: $25.00; Cash Advance Fee = The greater of $5.00 or 3% of the transaction; Foreign Transaction Fee=2% of the transaction in US Dollars; Additional Sales Draft Request=$5.00; Return Payment Fee=$25.00; Statement Reprint Fee=$5.00
Check out our FAQ page for a list of frequently asked questions.