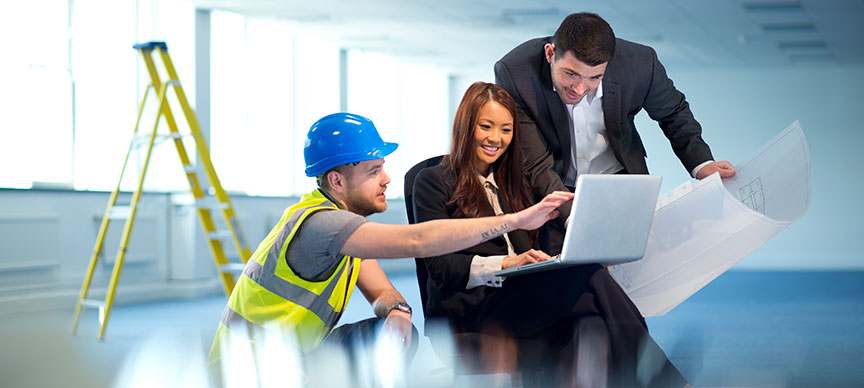 Ready to reach new heights?
Our business loans and lending
solutions can help you get there
Your team has worked hard to build your business to where it is today. Our job as your bank is to connect you to the financial resources that'll strengthen and support your growth. Between our team of business bankers, treasury management services and suite of business loans, business line of credit and lending solutions, you can feel confident in knowing you have access to all the tools necessary to manage your growth and achieve your financial objectives.
Business Checking Overdraft Line of Credit
Protect your business from "insufficient funds" fees with our business checking overdraft protection line of credit. If the available balance in your business checking account is inadvertently exceeded, the loan will be activated and payables will be covered up to the maximum amount of your line.
Business Line of Credit
Competitive rates
No application fee
Construction Loans and Credit Lines
Property purchases
Upgrading an existing building, expansion, renovations, or improvements
Land purchases
Construction
Mixed use properties
Business loans for investment properties
Owner-occupied properties
Refinancing
Commercial Mortgages
John Marshall Bank's commercial mortgages are available for property purchases, upgrading and existing building, expansion, renovations, or improvements. Additionally, capital may be secured for land purchases, construction, mixed use properties, investments properties, owner-occupied properties, or refinancing.
1-year, 3-year and 5-year alternatives
Competitive variable rates
No application fee on amortizing mortgages
No balloon mortgages
No repeat appraisals required during original term of business loans
Business Term Loans
Fixed amount with equal monthly payments of principal and interest
Competitive rates
Automatic payment from customer's business checking account
Business Credit Cards
Through Elan Financial Services, Inc., your business will have the option of choosing from a range of credit cards designed to help you build and discover your growth potential – without having to worry about funding options.