Be Set Free from Fees & Fuss with JMB's FREEDØM Account and Participate in the Perks that Come with Passing on Paper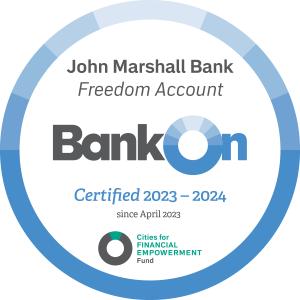 FREE Mastercard Debit Card — unlimited purchases with no-fee cashback. You control how, when & where your card is used with the SecureLOCK Equip app.
FREE Online Banking with Bill Pay
FREE Mobile Banking & Mobile Check Deposits
FREE e-Statements1 and e-Notices
FREE Unlimited ATM withdrawals2
FREE Email or text alerts
FREE of paper3 — go digital and deposit checks, pay bills electronically and auto schedule your recurring payments
NØ Minimum balance requirement and NØ monthly service charge
NØ Monthly transaction limits
NØ Hassle sending money with Zelle® by using the JMB Mobile app
NØ Need to lug your wallet around. Use the digital wallet app for Apple Pay® and Google PayTM to make purchases using your phone.
$10.00 minimum to open
Secure Your Financial Freedom by Opening a FREEDØM Account Today!
Monthly electronic statements required. Must be enrolled in and agree to electronic monthly statements within 30 days of account opening.
Get unlimited automatic ATM surcharge rebates for ATM fees other banks charge you. JMB does not charge a fee for using another bank's ATM. ATM fees will be rebated once the transaction posts to the account. In the event that you have not received a rebate for a fee you believe is eligible, please contact us at 703.584.0840.
You cannot use paper checks on this account. Any checks written and presented will be returned unpaid, even if you have sufficient money in the account.
The Dormant Account Fee, Daily Overdraft Fee, and Early Account Closing Fee are waived on this account. Available to personal residents of DC, Maryland, and Northern Virginia.