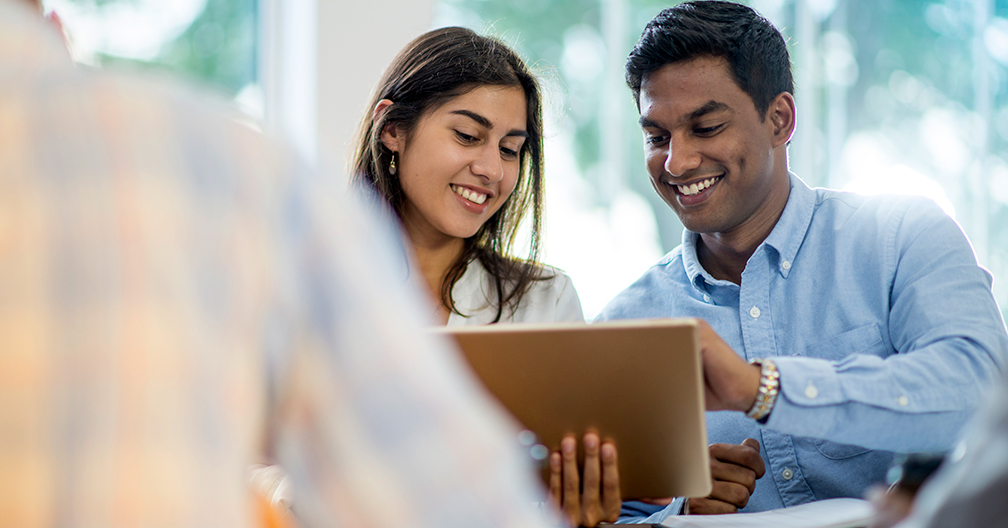 The Fundamentals of Starting a Business
With 33.1 million small businesses and growing — starting and sustaining a business is a promising and rewarding pursuit for thousands of Americans nationwide. In fact, as a small business, you would be contributing to the 99.9% of businesses that charge our national economy.
We've put together some helpful tips to keep in mind as you begin exploring the possibilities of being a business owner. At the end of the day, starting a business will look different depending on your resources, your team, your vision, etc.
There are certain aspects of starting a business that you'll have to just experience for yourself as you go through the trials and errors. However, if you're looking for some experienced strategic advice, feel free to reach out to one of our business bankers.
Take the time to define your business
In starting a business, the first thing you want to do is to clearly define what kind of business you're going to run.
This can take a couple of weeks or a couple of months but either way, the point is to have a candid conversation with yourself (and business partners, if applicable). To help facilitate this process, here are some questions to ask as you navigate through the brainstorming phase.
What kind of business can you picture yourself passionately working 12-16 hours a day for?
What product or service can you offer that you can confidently stand behind and market?
Why exactly are you starting this business?
Where do you want to build this business?
Do you currently have the time and emotional bandwidth to take on this venture?
How will this business impact your relationships with your family or loved ones?
What skills and resources do you currently have?
Build a strong foundation through strategic planning
A study recently published in the Journal of Business Venturing, revealed that those who take the time to build a strategic business plan, grow 30% faster than the businesses that just "wing it."
There are many free online resources available to help you develop a business plan. The goal is to be able to communicate exactly what your business is about. This includes your organizational structure, mission and vision statements, sales strategies, and funding.
Overall, the strategic planning process can take time and require serious intentionality and research effort on your part. However, building this infrastructure will help give you a better understanding of what to expect as you start your business.
Make your mark through Competitive Analysis
A thorough competitive analysis of your regional competitors will help you determine a variety of aspects concerning your business. For example, comparing the pricing strategies of local competitors can help you determine and justify your price points.
This component of your strategic planning includes identifying your competitor's weaknesses and strengths, marketing strategies and target audience.
Understand the market you are getting into
Market research goes hand in hand with competitive analysis. Make sure to dedicate time to this process as it will help point you in the right direction concerning your marketing strategy. Learn about the industry where you're looking to build your business and identify market trends, using statistics to make data-driven decisions.
An important part of market research is understanding your audience. Businesses that don't take the time to do this miss out on the advantage of targeted marketing. Identify what your customer wants, how they want it and why they want it. Look at pain points you can alleviate and research the climate of your market through a number of platforms — especially social media.
Registrations, Licenses and Legal Processes
It's important to understand your state's legal process for registering and maintaining a business. Depending on the type of business you're looking to start, there may be additional certifications or licenses you'll need in order to be operational. You can avoid unnecessary fees and legal obstacles by doing your due diligence as a business owner.
If you're looking into an industry that's heavily regulated — such as the medical field — you may want to seek expert advice to make sure you are in alignment with federal and state regulations. This may be legal counsel, CPAs and/or consultants. Here at John Marshall Bank, we have industry experts on staff that can provide insight into several industry segments such as nonprofits, health services, government contracting, and more.
Choose a bank that will support your business
Establishing a working partnership with a dedicated bank can make your business' financials a lot easier to manage. From business loans, treasury management services and more, a well-equipped (and cooperative) bank can make all the difference as you start and sustain your business.
There are several different aspects we suggest you look out for when considering a bank for your business:
Testimonials: Do they have a track record for supporting other business owners? Are there current clients you can reach out to about their services?
Capabilities: Are they equipped with the resources and capabilities to help you move your business forward?
Innovation: Have they invested in the tools and technology that will help streamline your operations and simplify the banking process?
Expertise: Are the bankers knowledgable about your industry and your market? Are they offering not just banking advice but an overall financial partnership in helping you as you're starting your business?