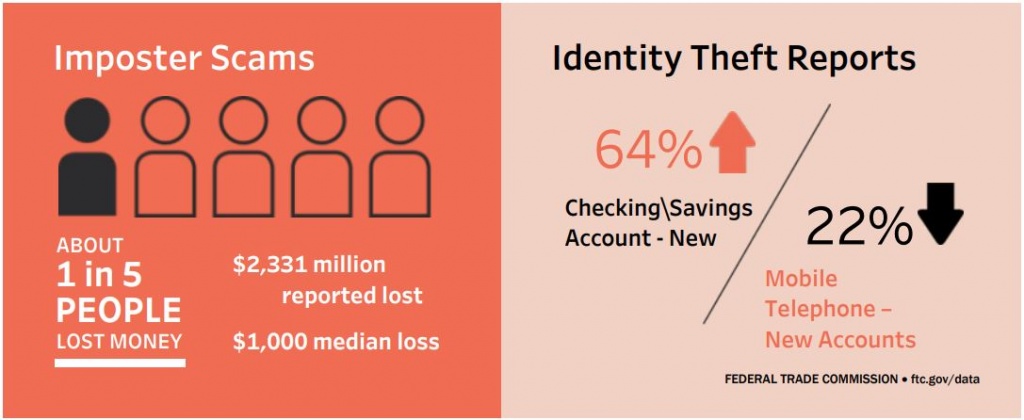 Fraud and Identity Theft By the Numbers
Who is at Risk of Fraud?
The Federal Trade Commission (FTC) releases an annual fraud report through the Consumer Sentinel Network. This report is filled with fraud facts and statistics that help consumers understand the current trends. We've gone ahead and identified several key stats, as well as fraud facts in VA, MD and DC.
In 2021, the FTC reported $5.9 billion in losses as a result of fraudulent activity — an increase of $2.4 billion over 2020
There were nearly 389,737 people who suffered credit card fraud which meant that a credit card account was opened utilizing their information
48.6% of all reports to the FTC were to report fraud, followed by identity theft at 25%
Nearly 1 in 5 people reported a financial loss due to an imposter scam
308,910 adults ages 30-39 were victims of identity theft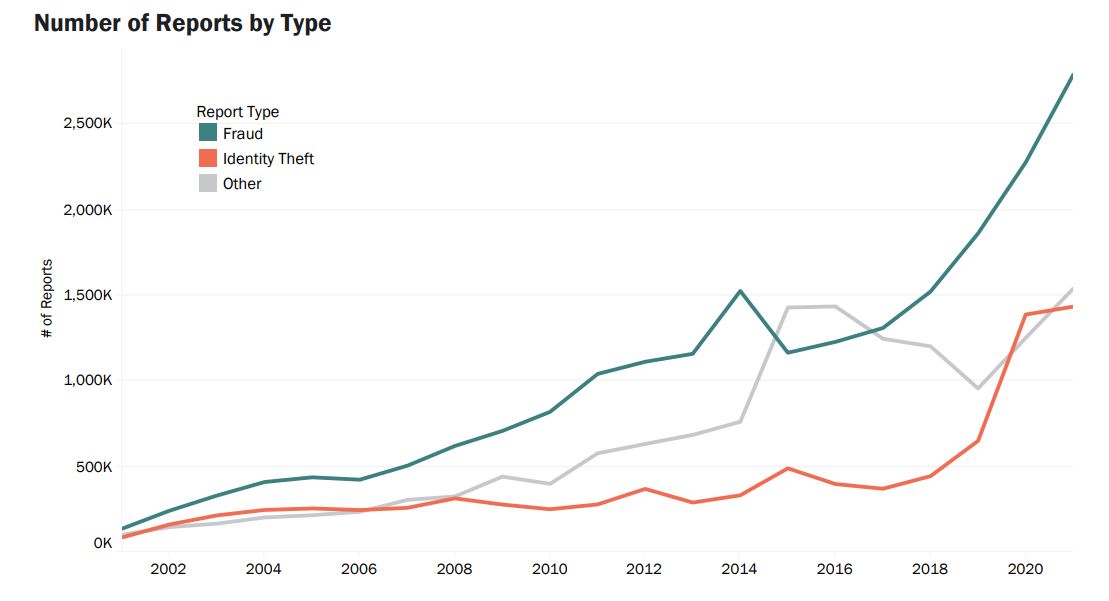 Percentages are based on the total number of Consumer Sentinel Network reports by calendar year. These figures exclude "Do Not Call" registry complaints.
Source: Federal Trade Commission, Consumer Sentinel Network.
Due to the nature of the internet and our digital footprint, anyone who uses the internet to input sensitive information is at risk of becoming a victim of identity theft and fraud. 
In terms of demographics, the tables aren't turned quite the way you think they would be. Interestingly enough, the FTC revealed that millennials are actually more likely to be a victim of fraud than the elderly.
These fraud facts showed that 41% of adults age 20-29 who have reported fraud, end up losing money in a fraud case, compared to only 18% seniors.  However, when seniors lose money to fraud, they have a much higher loss rate than young adults. 

Fraud Incidences in VA, MD and DC
According to the Federal Trade Commission's report in 2021, 2/3 of our region ranked in the top 10 in terms of identity theft complaint density compared by population.
| | | | |
| --- | --- | --- | --- |
| State | Complaint per 100,000 population | Number of Complaints | Rank |
| D.C. | 1,701 | 12,004 | 1 |
| Maryland | 1,415 | 85,568 | 3 |
| Virginia | 1,099 | 93,763 | 14 |
Fraud Facts in Maryland in 2021
26% of fraud reported involved identity theft and 15% of fraud reported involved imposter scams
Government Documents or Benefits fraud was the #1 method of identity theft
There were 85,568 reports of fraud in total
Maryland suffered $94.0M in total fraud losses
Fraud Facts in DC in 2021
16% of fraud involved imposter scams
27% of identity theft was a result of credit card fraud
There were 12,004 reports of fraud in total
DC suffered $10.2M in total fraud losses
Fraud Facts in VA in 2021
18% of all fraud was related to imposter scams, followed by Credit Bureaus, Information Furnishers, and Report User Fraud at 10%
29% of identity theft was a result of credit card fraud
There were 93,763 reports of fraud in total
Virginia suffered $112.9M in total fraud losses