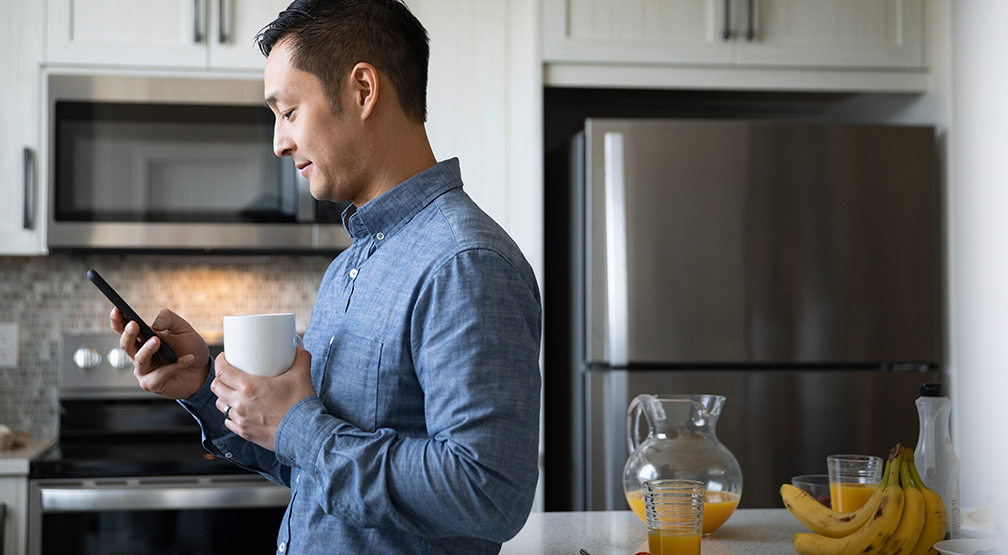 Personal finance apps are a great way to
build healthy money management skills
Personal finance apps are helping individuals better manage their personal finances. Whether you're saving up for college or saving up for retirement, establishing financial literacy and overall good habits is a fundamental aspect of a healthy lifestyle.
And with the innovation of today's age, personal finance apps have provided accountability and insight to users of all age groups. We've picked out our top three personal finance apps that we feel provide a holistic approach to helping you manage your finances and build a healthier relationship with money.
Note: The following text is strictly for informational purposes and does not reflect an endorsement from John Marshall Bank for any of the following products/services. 
With over 30 million users, Mint has secured itself as a top-rated staple in personal finance tools. Their free app automatically syncs to your accounts, allowing you to receive real time data and reporting. With this information readily available, you are able to make more informed decisions on your finances and spending habits.

Personal Finance Features:

Budgeting: Allows you to establish a detailed budget for designated categories including groceries, gas, paying debts, etc. Since your accounts are synced, you don't have to toggle between your receipts and the app. Mint will recognize a purchase at a restaurant and deduct it from your "eating out" budget.
Interface: User friendly dashboard lets you clearly see when you're going above your desired spending limits. (The proverbial "red" for bad and "green" for good).
Trends Overview: This visual representation of your spending allows you to have a quick glance at where your money's going. The feature can be adjusted for time, allowing you to see how much you spent in a certain period, such as a vacation.
Credit Score: As soon as you log in, your current credit score is displayed on the dashboard. This allows you to conveniently keep track of your credit score and report any suspicious activity immediately.

YNAB is our top choice for those who want to live on a budget in order to save money and pay off outstanding debt. It teaches users fundamental principles to learn how to gain control of their finances. YNAB is not free but the lifetime lessons and principles that are built are certainly worth the investment.

Personal Finance Features:

Instructional Lessons: YNAB holds true to their values by providing online courses and guides that develop better spending habits. Some examples of their guides include, "Age Your Money and Extend," "Deal With Your Debt," "Think Long, Act Now," and more.
Four Rules: Staying true to their core values, YNAB guides users through their proven method, the "Four Rules." Through these principles, YNAB teaches users how to allocate their funds, control their spending and make purposeful decisions with their finances.
Goal Tracking: Learn how to make budgeting goals and easily program them through the interactive interface. You can receive real time updates on your progress through data driven generated reports.
Envelope Method: YNAB uses the "envelope method" where every dollar has a purpose, from paying bills to paying debt. By driving this principle through it's automated features, YNAB digitizes this age-old practice and allows users to have more control over their funds.

Acorns is the solution for those interested in investing but not sure where to start, or those who simply can't keep up with the stock market. Considered a market leader in "micro-investing," they have successfully simplified a complicated industry and made investing much more accessible. This personal finance app is not free. However, if you're committed to building a stock portfolio but can't commit the time, Acorns is a worthwhile investment.


Personal Finance Features:

Round Up: The app works by syncing to your financial account and utilizing a unique process to invest in stocks on your behalf. This process basically rounds up your purchases to the nearest dollar and uses the difference to invest in stocks of your choice. If you spend $5.63 at a fast-food restaurant, the app will automatically deduct $0.37 from your account. It will then add the funds to a "holding tank" until it reaches a predetermined amount. Afterward, the predetermined amount will be withdrawn from your account and invested on your behalf.
Curates Portfolio Selection: Acorns has five portfolios to choose from. The app will recommend one of these portfolios based on a questionnaire that assesses your overall investment goals.
Acorns Later: This personal finance app can also help with retirement planning. As an added paid service, Acorns Later provides users the option of investing in an IRA.