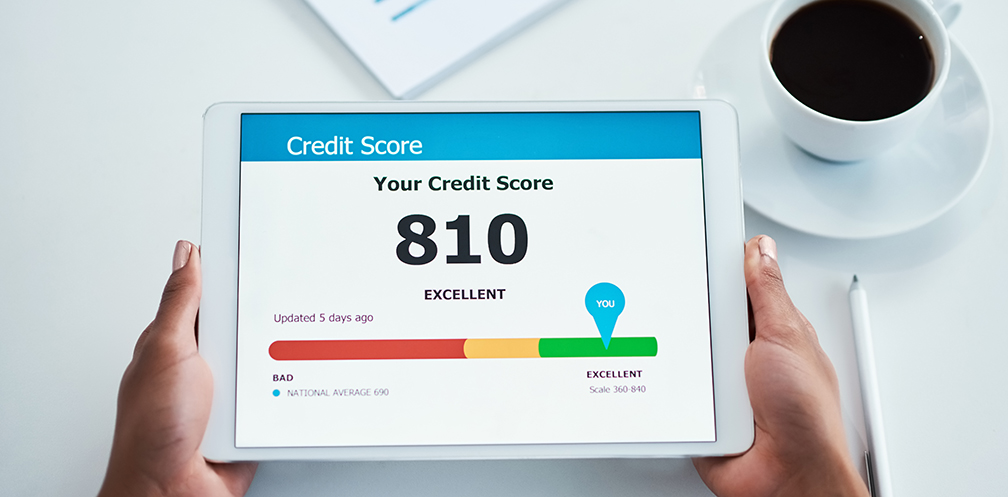 A healthy credit score is an important
part of your financial future
Your credit score is essentially your identity in the world of finance. It's the decisive factor between a loan with 4% APR and 24% APR. And knowing how to improve your credit score is a critical personal finance skill. 
A great credit score can lead to a host of opportunities from both a personal and professional standpoint. Low or nonexistent credit can have the same impact but in the opposite direction meaning closed doors and denied loan applications.
Ideally, you want to be in control of your credit score and leverage it to your advantage when thinking about large purchases such as a car loan, a mortgage or business loan.
What is a Credit Score?
Your credit score is a measuring tool for financial institutions to be able to determine your ability to steward loans and payments. It's essentially a track record of your money management. The range that your credit score falls into helps lenders determine if they will give you a loan, the kind of interest they will add to it and more. After all, a lender will want to secure their loan through a variety of means and your credit history serves as a tangible asset in building your case for a loan. Generally speaking, your credit score will fall under one of the following categories — poor, fair, good, very good, and exceptional. These categories are grouped into a general range that spans from 300 – 850.
These numbers are determined and reported by the three credit bureaus — Experian, TransUnion, and Equifax. These agencies receive reports from banks and other financial institutions concerning your overall account status. If you've already built credit, you can find out your score through a variety of online tools such as Credit Karma.
What Can Lower Your Credit Score?
Between personal choices and emergency situations that are out of our control, your credit is largely impacted by spending habits and financial management. Here are some of the most common reasons your score can get negatively impacted by:
Outstanding debt
High credit utilization rates
Financial records
Multiple credit checks
Missed or delayed payments
Identity theft of fraudulent credit card usage
How to Improve Your Credit
Essentially, to improve your credit score, you must either build or establish credit. One way to build credit is to start by applying for a secured credit card. In this scenario, you would make a deposit that is usually the same amount as your credit limit. Once you build a history of credit usage and on-time payments, you will start to see your score increase. Below is a list of some steps you can take to build habits and principles that will improve and protect your credit:
Always make at least your minimum monthly payments
Don't approach your credit card limit unless it's an emergency
Minimize multiple credit checks and credit card applications at one time
Avoid closing an account as this can affect your account age and negatively impact your credit
Stay up-to-date on your credit status and be vigilant of any suspicious activity on your account